Contact Us
General Enquiries
Mirvac, 2 Davy Road, Eveleigh, NSW 2015
Phone: (02) 8398 5710
Email: south.eveleigh@mirvac.com
Security Enquiries
Located halfway along Mitchell Way, directly across from the main entry to Data 61.
Phone: +61 2 9699 7665
Email: southeveleigh.security@mirvac.com
Parking Enquiries - Point Parking
Casual parking is available in The Foundry Car Park, 2 Central Avenue. For all parking enquiries, please contact Point Parking on 1300 551 131.

OPEN: 5:00am -11:30pm

Motorcycle Parking
Limited motorcycle parking is available along Central Avenue.
Free Parking
Weekdays
Free evening parking (enter after 6:00pm and exit before 11:30pm). Enjoy 45 minutes free parking or two hours with validation with dine-in purchase, class participation or treatment at one of our retailers.
Weekends
Enjoy 2 hours free parking on weekends (no validation required).
$10 Secure overnight parking
Enter between 5.30pm - Midnight and exit between 5:00am - 8.30am the following day. To confirm this offer you will need to register your vehicle by supplying first and last name via email
south.eveleigh@mirvac.com.au
or call
1800 870 549
during business hours. For all other parking enquiries, please contact Point Parking on
1300 551 131.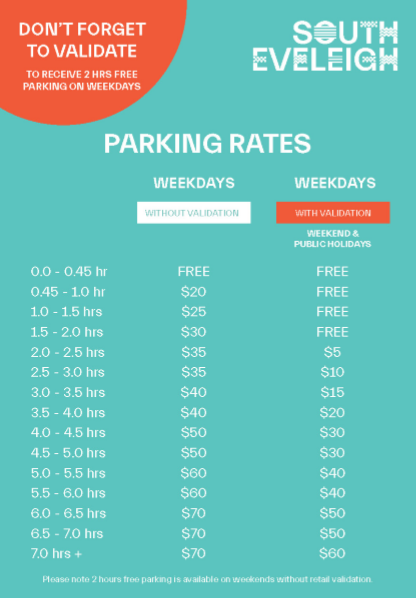 Mirvac Leasing and Tenant Enquiries
Andrew Flockhart
Phone: +61 418 517 328
Email: andrew.flockhart@mirvac.com
Centuria Leasing and Tenant Enquiries
Centuria
Level 39, 100 Miller Street
North Sydney NSW 2060

David Schmidt-Lindner
T: +61 2 8923 8954
M: 0415 447 653
Email: David.Schmidt-Lindner@centuria.com.au
Construction & Development Enquiries
Phone: 1800 512 252